Technology has never really interested me.
I don't need the latest greatest gadget
and I don't jump on bandwagons of technology very easily.
Not sure why. Maybe because when
I was a teenager my Dad would let me borrow his cell phone, but on strict orders to only use it in an emergency.
This was back in the day when cell phones were built into a bag and had to be plugged into a cigarette lighter.
Not the most convenient thing to use just to chat. Maybe I equate cell phone usage with emergency?
When I had a not so reliable car and a little one, I got a cell phone. I never used it. I would rarely remember to even turn it on. Once we got a new car, I canceled the plan. I didn't even consult with my husband. It didn't even take any thought. We didn't need it, didn't use it, and could live without it.
For years we lived without a cell phone just as the technology was really picking up. Everyone was getting cell phones and yet we continued life without, not really feeling like we needed one.
About three years ago, we decided life was getting busy enough with three kids, two parents and multiple places to go that we really could benefit from having a cell phone plan again.
My husband and I got two phones. One for him, one for me. Both prepaid and pay as you go. They end up costing us around $8 a month. A pretty sweet deal.
I must confess, I still have a hard time remembering to keep my phone with me. Most of the time I don't even have it on.
For the past 13 years I've had little kids at home. This is the first year, all three of my kids are in school. As a stay at home mom, my number one job has always been to be present. I didn't really feel like I could be present with them and be carrying on a conversation on the phone while I pushed them on the swing at the park or while I drew a picture with them at the art museum. I usually don't even have music on in the car while the kids are with me. I want my conversation with them to be my focus.
The way I see it, texting is just one more way for technology to take my focus. It's always there, and instantly available. I get distracted enough by the technology that is already in my life, I don't feel like there is room for anything else.
I thought that texting was just a fad and wouldn't really catch on. Maybe I was just hoping.
Most of what I need to do in life, I can get done with an e-mail, a phone call, or a facebook message.
I have a teenager now. He's begged for a phone. He's wanted a phone since he hit double digits. Initially it was so he could play games on it. Now it's so he can text.
You've probably seen those kids. The ones all walking together in a group but not a single one of them talking to each other, all of them with phone in hand texting.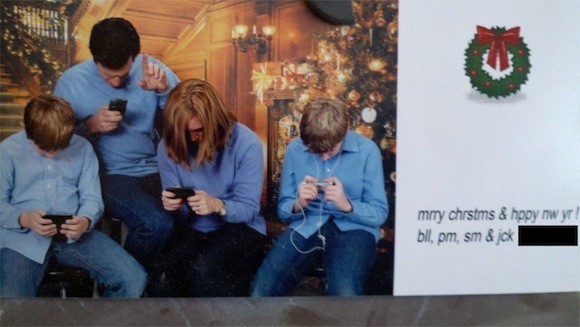 I don't want to be this family. The ones who can be with each other but not really.
I just found out that one of my "older" friends texts everyone in her phone book, but me. I'm the only one she still e-mails.
That sort of made me realize that maybe everyone is "doing it". Should I *finally* jump on the bandwagon?
Am I the only one who doesn't text?

I would love to hear your thoughts.